27 July 2018 Kent, WA – Going to the GoodGuys car show down at the fair grounds in Puyallup you will see all kinds of show cars, trucks and hot rods. Over at Pacific Raceways the cars, trucks and hot rods are shined off the show room floor and front and center on the drag strip.
Each year the old school and classic Detroit muscle get together with some pretty fast race cars from the era for a get together on Pacific's grounds. No drag racing at the fair grounds but here a little road dust is quite acceptable on the show cars that show up for the day.
Vendors were also on hand and there was plenty of food and refreshments by Bigfoods for the thousands that filled the stands enjoying the racing.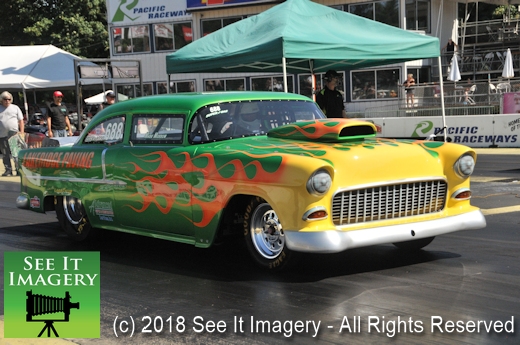 With entries nearing the 200 mark and more butts in the seats then years past really shows the interest the "old school" type of racing and the hot rods that go along with it.
We're already looking to next year for what is sure to be even bigger.
Lots of great images of vintage Hot Rods – check out the photo album here…
WINNERS
Bobby Cottrell in Funny Car
Greg Kent in Hot Rod 1
Steve Siefert in Hot Rod 2
Makayla Quam in Street Machine 1
Gordon Rust in Street Machine 2
Dave Wakefield in Comp
Bret Renschler in Exhibition