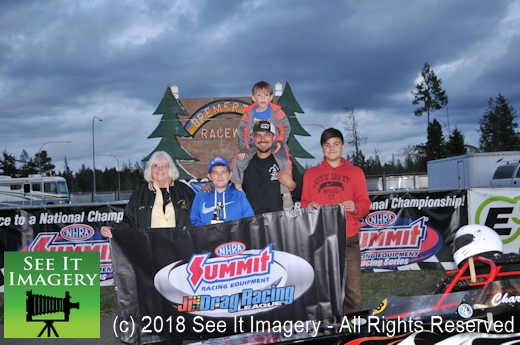 06 Oct 2018 Bremerton,  WA – Rolling on to the raceway property with the sun out bright after a day long down pour the day before is always a great sight for the eyes.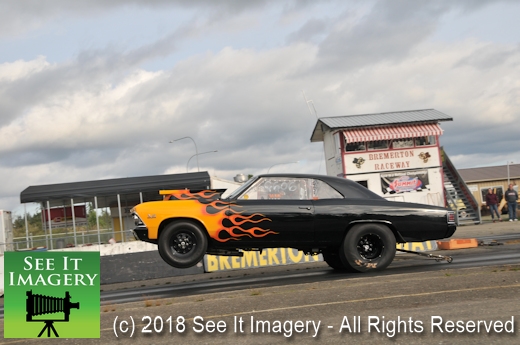 This race weekend is loaded with "lasts". The last race to earn points in the E.T. series towards track championships and to qualify for the "King of the Track" also it is the last race weekend for Bremerton Raceway season and the last weekend for Gordon and Barb Howell overseeing the operations of the racetrack and in this position changing the schedule for the KOT from the next day to this day because of the impending weather for that day.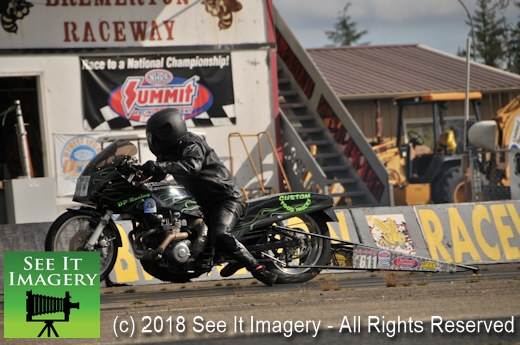 Smart move as the next day became a "rainout" as far as racing but the big winner this day was Russell Lopeman who heard his name announced for the trailer giveaway presented by Freeway Trailers and Bremerton Raceway.
Challenge winners and KOT are Jeremy Sears in Super Pro, Mike Evans in Motorcycle, Brian McGinnis in Pro, Brian Thompson in Sportsman, Dawsin Ridge in Jr. Thunder, Charlie Burkevics in Jr. Lightning, Dustin Ridge in 2nd Chance Lightning and Congrats to Thomas Vickers in winning "King of the Track".
All in all a great way to end the season at Bremerton Raceway and I have to add a huge "THANKS" to Gordon and Barb over the years for the help covering your work and enjoy your time away from the track.
Lots of great images are now available – click here to go to the photo album.