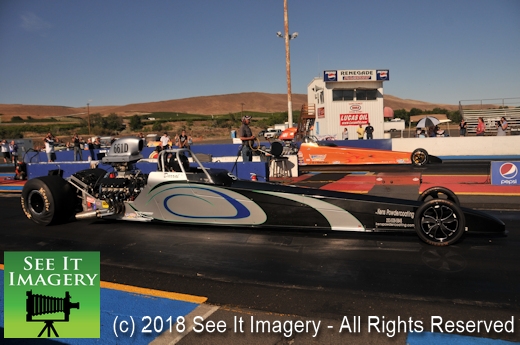 27 May 2018 Yakima, WA – Aptly named with blown motors and jet blasts this annual event is now in its 8th year honoring the late owner Dee Adams. Combined into a weekend that kicks off the summer holidays even though it is still spring, the event draws the racers to the track. Over 230 packed the grounds ready to do battle.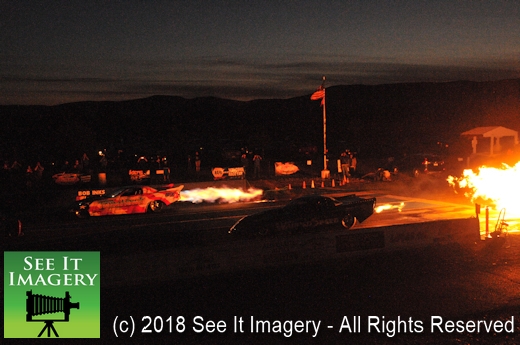 Changing the plans for the weekend the Super Comp and Super Street changed to 1/8th mile racing due to the strong winds down the track Saturday. It was a nicer day on Sunday but the length was set, and all the racers seemed to have a lot of fun racing the shorter distance.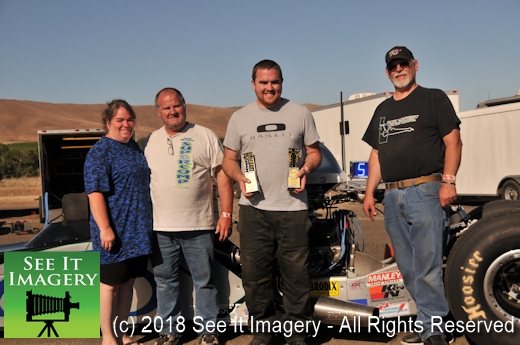 I have to think that Darral Petitt would like the 1/8mi. all the time as he swept the weekend Super Comp Series. Not quite a sweep but a win on Sat. and then on Sun. in two classes, Jeremy Sears claimed the Quick 8 and Super Pro in that order. Adding to this two-win weekend longtime northwest racer Jim Van Cleve picked up the AFX class Saturday, then added the Pro class win on Sun. A bunch of happy family winners by the end of racing but you know those three were on top of the world. A big Thanks to Derek, Sara and the entire drag crew for the help and to the tower crew Thank You.
Images are  in three albums, sorted by days – Click here to go to all the albums.
SATURDAY WINNERS
Super Pro Andy Schlenker
Pro Rev. Robert Jackson Jr.
Sportsman Jerome Feltman
Bike/Sled Stacy Hesch
Super Comp Darral Petitt
Super Street Dennis Boley
AFX Jim Van Cleve
Jr. Lightning Cooper Chun
Jr. Thunder Lindsay Miller
Quick 8 Jeremy Sears
SUNDAY WINNERS
Super Pro Jeremy Sears
Pro Jim Van Cleve
Sportsman Kenny O'Keefe
Bike/Sled Mike Graber
Jr. Lightning Ian Theofelis
Jr. Thunder Dustin Ridge
AFX Dale Posnick
NW Nostalgic Deb Cummins
Super Comp Darral Petitt
Super Street Chad Blevins