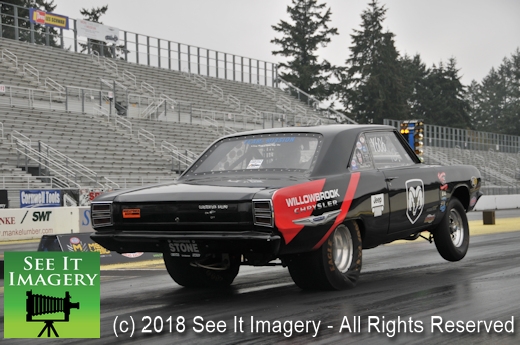 20 Oct 2018 Kent, WA – The end of the season for the dragstrip at Pacific Raceways is a test and tune/gambler race, and as always weather permitting. This day started at daylight with 100% humidity and visibility less than 1/8th mile and the sun no where in sight until the fog lifts.
The previous few days this was the pattern between 9 and 10 am then the fog was gone and things warmed up nicely to the 60's. This day however "Mother Nature" had other plans for the 175 plus racers and the area around the dragstrip, though just a few hundred feet in elevation it is sunny and warm while here it is, see your breath chilly and you can see barely a mile.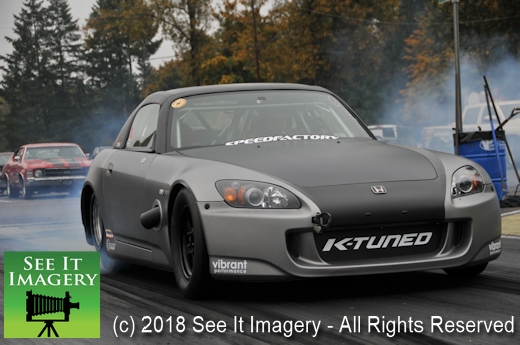 Track temps now in the 60's with "street" tires only running the track and little by little warming the surface as the sun is now peeking thru the fog aiding in the process to prep the track for cars with the "slick" tires to make runs.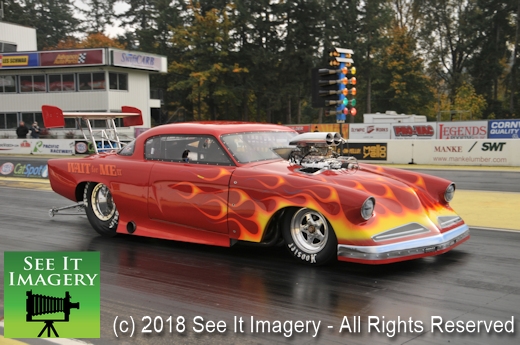 With the sun out nicely and everyone having made a run, it was time for the "Gambler". The race is one run only and the "best package" takes the cash.
Two "winners" emerge, electronic and non-electronic, each earning a "GIFT" package of Bardahl products provided by sales representative Renea Berger who shared the winners circle with the electronics winner Mary Burckhard and drag strip manager Ed Garfield.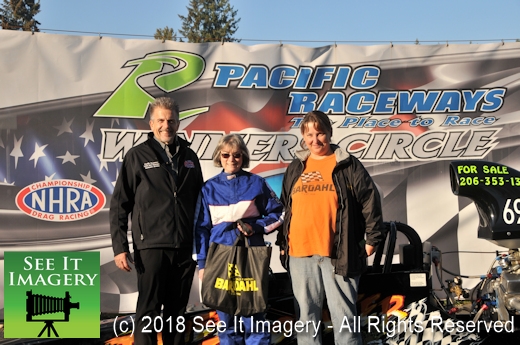 Taking home all the way to Mission, BC in the non-electronics class is Chris Stone in his '68 Dart laying down a 0.040 package. Congratulations to both winners and see you sometime mid-March for the next TnT.
Images are now available – click here to go to the photo album.