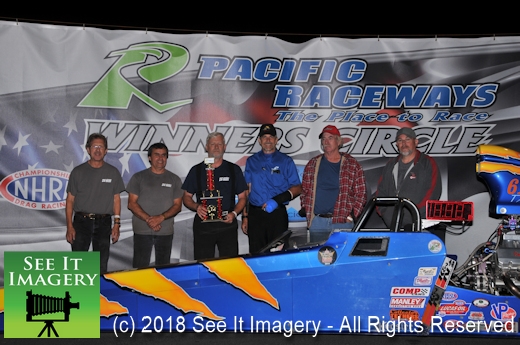 25 Aug 2018 Kent, WA – Unlike the first two Saturday races, this the last of the season became a battle of "wills", Ed Garfield and his drag crew (vs) "Mother Nature". Yes, this was an all-day event with the cutoff at 11:00pm.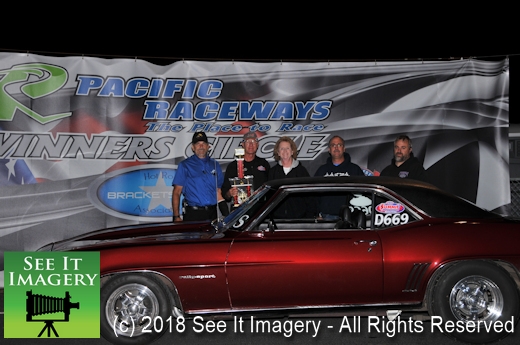 Traveling from both ends of the track the spattering of drops would bring action to a halt. Do not know the time it takes to go thru the run order, but the weather seemed to stop each time the Jr.'s turn came up, bringing out the bumper-shoots or flat out scurry to their pits seeking cover.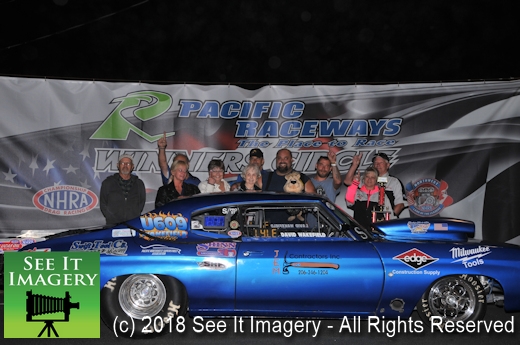 Each one of these "raindrops" had the track start over with track drying and prep. The extra time works against the curfew which works against the run order. Time became a factor as the race needed to finish to determine who will race for the "King of the Track" and points were close and win or lose added into the mix of possibilities.
After moving the run order around and getting the finals finished in each class as fast as the racers could "cool" down, did push the King of the Track final right to the witching hour and showed "Mother Nature"- "WE Will Win" this fight.
Tons of great images are now online – click here to go the photo album.
CLASS WINNERS
David Wakefield in Super Pro
Kenny O'Keefe in Pro
Larry DeCamp in Sportsman
William Nitta in Motorcycle
Ian Theofelis in Jr. Lightning
Dustin Ridge in Jr. Thunder
Trystan Marchel in Jr. Storm
Chase Gorder in High School
Troy Olsonanski in Stock
Dale Green in Super Comp
Jeff Jackson Jr. in Super Gas
Todd Sims in Super Street
Kevin Rennick in Top Comp
"King of the Track" Brian McGinnis. – CONGRATS!!