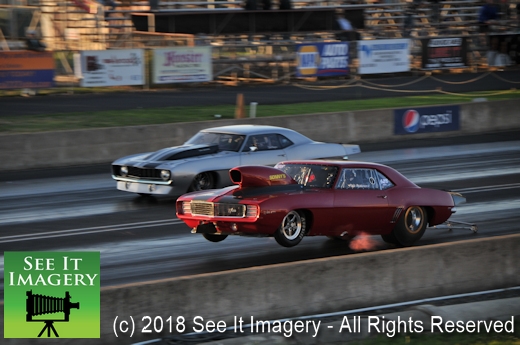 23 Sept 2018 Woodburn, OR – The last big event at Woodburn Dragstrip is now in its 33rd year and the draw to racers and spectators alike was huge! With each day being its own race day, the amount of classes (25 over the two days) brings a wide range of race cars and trucks to the famous dragstrip. Adding to the mix the Outlaw 8.5 and 10.5 bring their high-powered cars to the track for some 1/8th mile racing.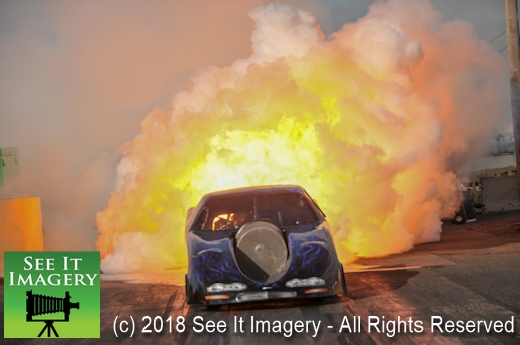 BB/Funny Cars, Pro Nostalgia and a pair of jet funny cars put on a show for the spectators along with a race among themselves to get a winner.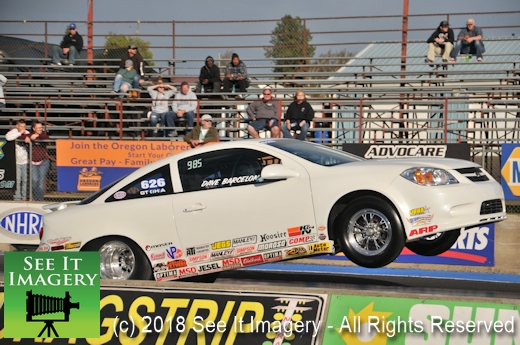 With the entries for both days racing ran into the darkness turning on the newly finished light pole behind the burnout box. This is a race weekend you need to mark on your date book for next year as it is a great show of race cars and horsepower.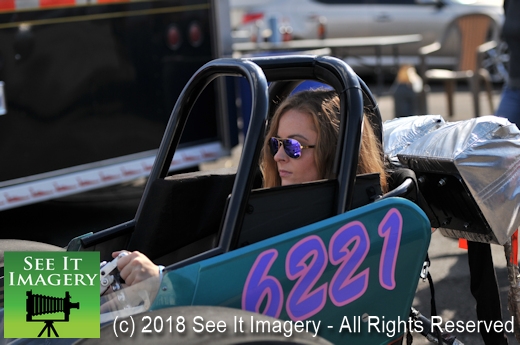 Tons of images from all 3 three days are now available – click here to go to the photo albums.
SATURDAY WINNERS
Danny Wargnier in Top Gas
Jarod Anderson in Hot Rod
Brian Horn in Street Machine
Jimmy Heriford in Street Rod
Paul Carbaugh in Stick Shift
Ron McBee in Gasser
Dave Mueller in Inline/Flathead
Steve Cooper in Run Tuff
Don DePeel in ET Motorcycle
Bob Osborne in Harley
Ty Anderson in Super Comp
Gary Erickson in Super Street
James Boyce in Stock/Super Stock
Ryan Bese in Jr. Lightning
Logan Scrivner in Jr. Thunder.
SUNDAY WINNERS
Greg Howland in BB/Funny Car
Marc Pruett in Pro Nostalgia
Paja Agotonovic in Outlaw 10.5
Michael Dunks Jr. in Outlaw 8.5
Tony Arthur in Super Comp
Jess Dale in Super Street
Dave Barcelon in Stock/Super Stock
Don Burgoyne in Dragster/Roadster
Donny Richards in Super Pro
Chris Stone in Pro
Jimmy Heriford in Sportsman
Terry Holloway in ET Motorcycle
Jeff Lilly in Pro Mod
Gene Hegle in Quick 8
Austin Varner in Jr. Lightning
Lindsey Miller in Jr. Thunder
Terry Holloway is King of the Track.
Congrats to all the winners at this years Fall Classic. Also need to thank Dave and Jack for the jump to get my dead battery going and to Jay Bird good luck on your new adventure to the east of the Mississippi river.