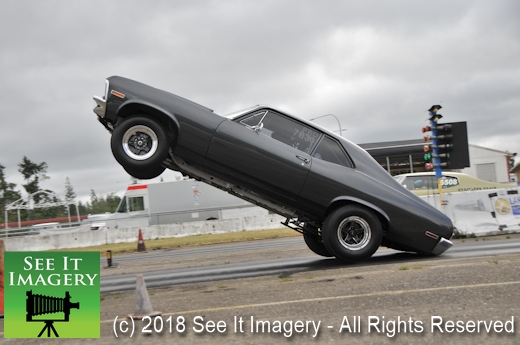 01 July 2018 Bremerton, WA – A bigger weekend would be hard pressed to find with the grounds packed for the John Kilroy Footbrake Challenge, the Mark Sarver Memorial 1/8th mile shootout and shootouts for the bikes and Jr's.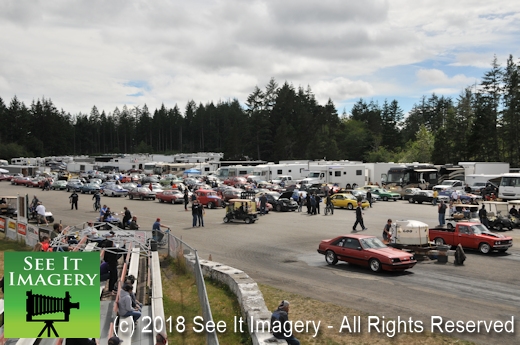 190 entries divided into two groups going after the big money this event grown into since started a few years back. Hosted by the Sears Family Racing with a slew of sponsors this "one" day event could morph into a "two" day event with entrust growing rapidly as the first race had just under a couple dozen, can you say a ten-fold growth in just a few short years.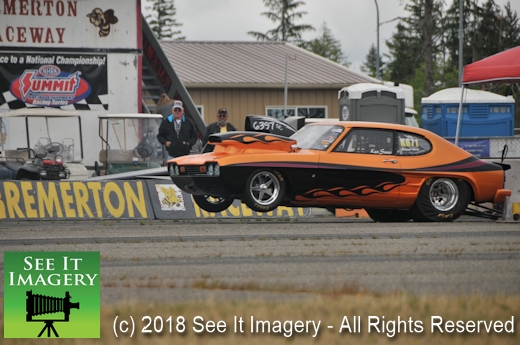 The idea of nothing but your brakes holding you on the line is every bit of "old school" racing, no trans brake and all electronics turned off or zeroed out to even have a dragster entered running with the door cars.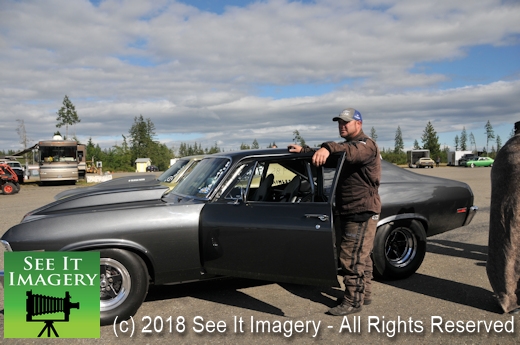 In what had to be everybody's photo op every time he came to the line Jake Guadagnolo traveled from Linden, Ca. some 17+ hrs. to Bremerton Raceway toting his bumper dragging 70 Nova. Only going a few rounds in the footbrake race he redeemed himself putting on a show round after round in Pro and Super Pro on Sunday coming ever so close to winning both, in the end taking the trophy in S/P. In his words "I love this place and am coming back next year and bringing my friends with me".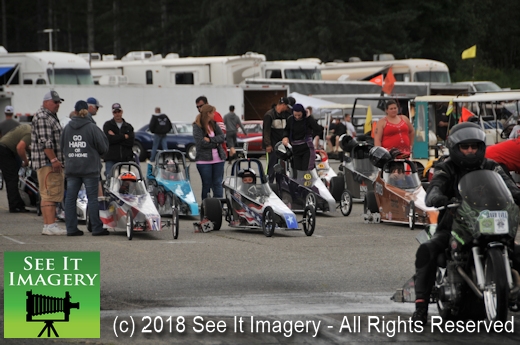 To cap off Saturday just hours before sundown a "wedding" broke out for Joe Grahm and Kathy Strong to say their "I Do's" on the starting line. Congrats to the newlyweds.
Ending the day with the "Rolling Stones Concert Experience" put on a show back in the "Cul-De-Sac" racing pits, great way to end the day with great music.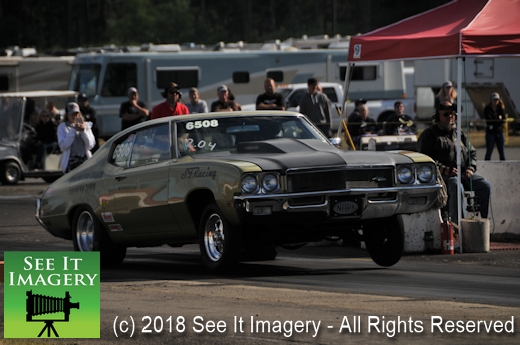 Saturday's winners are Jess Dale in Super Street, Emmett McKillop in Super Comp, Lane Cavar in the Sarver 1/8th. Mi. Shootout, FB Blue Peter Oliviero, FB Red Brandon Reaves, Footbrake Champion Peter Oliviero, Jr. Shootout Cooper Chun.
Sunday had the Bremerton Raceway E.T. Series in full swing with many of the "footbrake" racers now back in their normal race trim, IE trans brakes and electronics. In addition, the unfinished races from the National Open were also held with Tony Arthur getting the "Wally" in Super Comp and Todd Sims getting his "Wally" in Super Street, congrats to both on adding to the "trophy" case.
Sunday's results are Jess Dale in Super Street, Tony Arthur in Super Comp, Jake Guadagnolo in Super Pro, Jim Were in Motorcycle, Gary Howe Jr. in Pro, Renea Berger in Sportsman, Sean Ryland in Jr. Street,Maurice Castro in H.S., Kort Holbrook in Jr. Thunder, Ian Theofelis in Jr. Lightning, Isabell Boardway in 2nd Chance Thunder and Jiovanni Collecchi in 2nd Chance Lightning.
Only Super Comp and Super Street were completed, stay tuned to details for the final rounds for the other classes.
Tons of images broken out into multiple albums – click here to go to them.