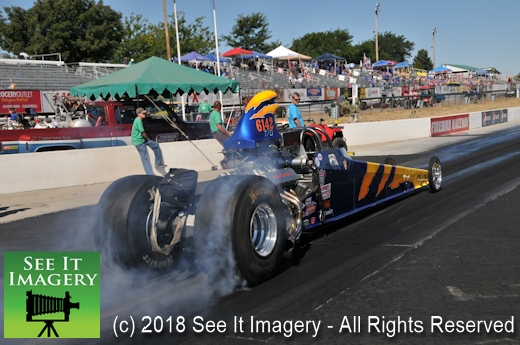 02 Sept 2018 Boise, ID – As the rotation goes around between the four host tracks for the Northwest E.T. Finals all headed to Firebird Raceway this year. Close to 500 entries packed onto the grounds, divided up into 14 team pits.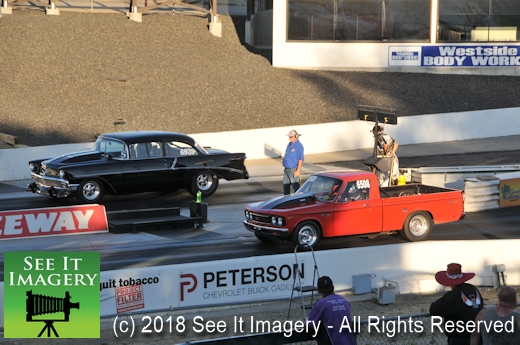 With the Managers Cup, the Race of Champions and the Team championship up for grabs with the winners of the Race of Champions going to Pomona as the Division 6 players for a 7-Division battle for number one in their class.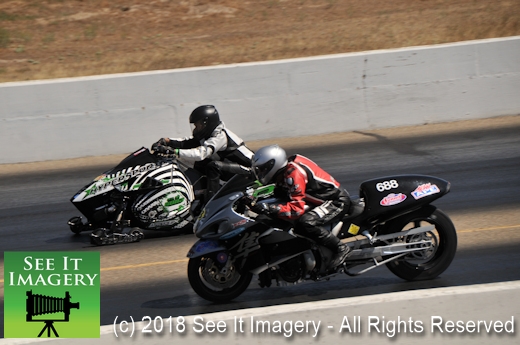 The weekend got tarted on Thursday with a test and tune for all that needed to adjust to the conditions that is Firebird Raceway. On to Friday and the Gambler race for all those that wish to enter and the runs were also your qualifying hit as those not in get a hit also. The more that enter the bigger the payout and any help with costs to a racer can be helped greatly with a win.
Those that pocketed the cash:
Kurt Gross in Super Pro
Brian McGinnis in Pro
Shannon O'Leary in Sportsman
Riley Toth in Bike/Sled
Kyle Wagenaar in Jr. Lightning
Logan Scrivner in Jr. Thunder
Cooper Chun in Jr. Street.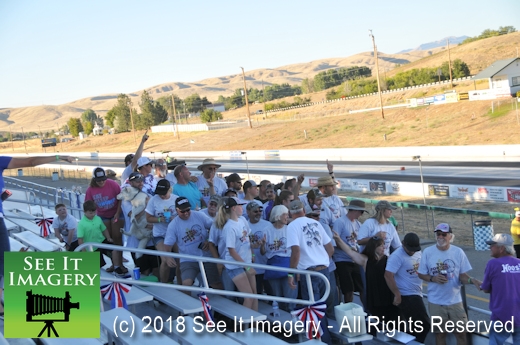 On to Saturday and it was the Track Managers Challenge and the Race of Champions. A race within a race as all members of the team's race with the winner added to the team total and as the track champions do battle for the Race of Champions portion also adding to the team total.
With two classes requiring seven rounds to get a winner that's a lot of racing. Round after round and into darkness it took to go thru the eight classes of racers. The four classes of winners in the ROC that will represent Division Six in Pomona are Pat Osmundson in Super Pro, Matt Lielman in Pro, Devin Fround in Sportsman and Scott Grondahl in Sled/Bike.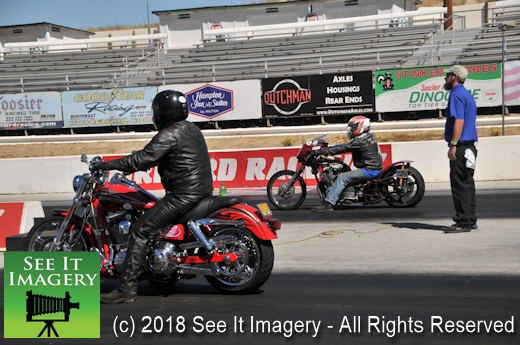 The four ROC winners not yet included in the trip to Pomona are Damien Chinn in High School, Kyle Wagenaar in Jr. Lightning, Lindsey Miller in Jr. Thunder and Calli Deming in Jr. Street.
In the Track Managers Challenge of the fourteen tracks that entered the E.T. Finals the big winner this year was Woodburn Dragstrip with 49 points to claim bragging rights for another year and those eight class racers that are now on a huge "high" for what they just accomplished.
Sunday, Sunday, Sunday as they say is here with the "Team" Championship up for grabs. With a round win number that will take a long time to better Woodburn Dragstrip "Team Pacific" and it's 55 racers were ready to attempt a re-peat. Food and liquids provided by "Pirates Loot" over the weekend kept all going into Sunday with a last breakfast before racing. Team photo finished, the members scattered to the pit area to get ready to do battle. Early on the round wins were tough to come by and no record this year and the place in the standings fell.
This fact was also true for a number of tracks, as a many time winner for this series came up with a big win and that team is Portland Int'l Raceway with 86 points.
The class winners in this race
Brad Pattan in Super Pro
Steve Kelly in Pro
Gary Howe Jr. in Sportsman
Mark Canty in Bike/Sled
Kyle Wagenaar in Jr. Lightning
Ryan Bese in Jr. Thunder
Cooper Chun in Jr. Street.
On a special note for a three-day weekend of racing with three separate races to win a racer can only dream of winning all three. Well a young man named Kyle Wagenaar had his dreams come true by "sweeping" the three races, a rare feat indeed done by anyone but to do it in the Jr. Lightning class says a lot about this, young racers future.
Images from the entire weekend, broken out in Albums by day, are now available – click here to go to the photo albums.
Till next time "Congratulations" to all the winners and "Good Luck" to those going to Pomona.