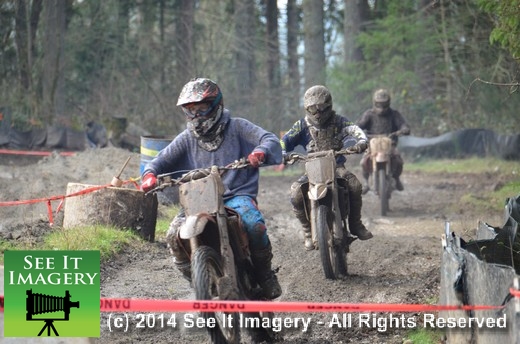 13 Dec 2014 Kent, WA – Repetitive action generally means you are going to get better at what you are doing. In the case of the GP Series it does not apply as Lance keeps the course in a different pattern for these events. Changing direction you go is not the only change you will encounter running the series.
In thru the trees, over and around hills and them logs which just a single one posed quite troublesome getting hung up on it and cutting into your lap times and position hard. How do you practice for this stuff?
The best way has to be coming out and running these events and starting out by being in good physical condition. As one rider says "my skills are not bad, but I am out of shape" and this will test you to the max as far as conditioning is concerned. As in any sport you have to be in shape to pre-form at your best level.
I have to think that the more gear you put on your body to protect it from harm the more being in shape comes into play. The next race is on the third day of the new year (Jan 3rd) so it will test your holiday layoff. See you next year. GO- HAWKS !!!
Over 400 Images – Click here to go to the album.