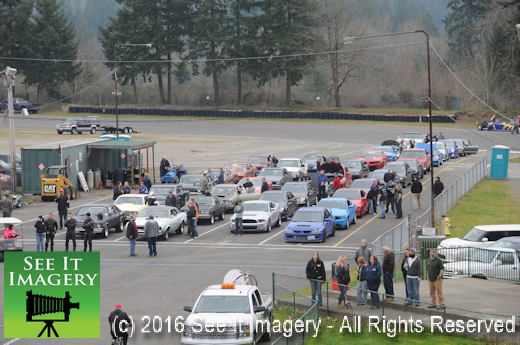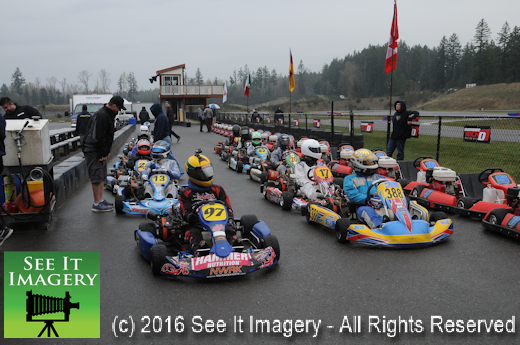 20 March 2016 Kent, WA – Weeks of anticipation to get a run down the dragstrip has arrived. Winter upgrades and new cars need to be tested.  There is only a month till the start of the 2016 E.T. Drag Racing Season, so these test and tunes can be very helpful.
Not so helpful though was Mother Nature as the weather pundits called for rain. We first got a round of "street" tires and then the "slick" tired racers got their shot at the track. Up next the motorcycles.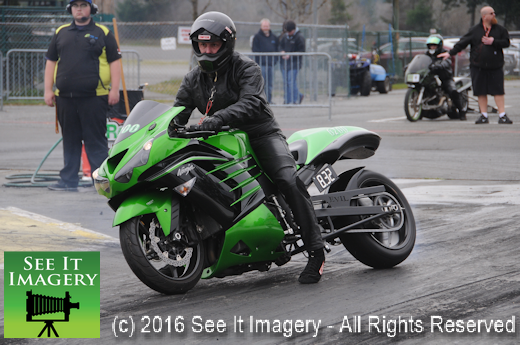 As normal track champion Joe Lind was first in the burnout box. Did I mention that water is needed to do your burnout? Water provided by the track in a controlled amount.  Burnout completed and ready to "stage" Mother Nature started adding more water to the burnout box and everywhere else that matters to a drag racer.
There were no breaks in the rain and the test and tune is now history, so it was off to the PGP Motorsports Park for some 4-stroke kart racing – they have "rain" tires and the gear to keep you somewhat dry. We got there just in time to catch the last qualifying heat as the rain continued, throwing spray off the tires as they sped by.
Noted is the fact the lap times do not differ much between the dry or wet track surfaces – a testament to how well the rain tires work.
Throwing down some very steady lap times Derek Wang could not be caught and claimed the P1 spot. Standing in P2 young Mason Buck is showing the progression he has made over the past year and a frequent stander on the podium Zak Bothel picked up P3.
Two albums are available, one for the first Test-N-Tune event of the season, the other for 4-Stroke.  Click on the links below to go to the photo albums.
Drag Racing TNT Images – Click Here
4-Stroke Kart Racing Images – Click Here