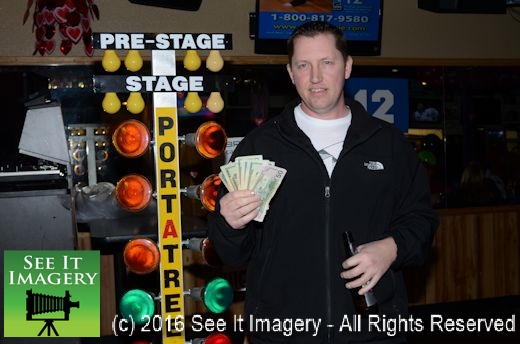 13 Feb 2016 Kent, WA – Mid-way thru the Practice Tree Series brings the racers out of the rain, though most at this time of the season most are in their shops preparing for the upcoming race year out of the rainy weather anyway.
Today it was not quite the record number as the last race but more towards normal. There was an hour of practice and then it was down to business.  Also nice to see was "wives and girlfriends" joining in along with "non-racers" in a mostly "super-pro and pro" racers.
Adult beverage in one hand and the other on the button is not out of the ordinary as this is the "only" way to drink and race at the same time.
Gaining a little ground Carl Thorsett lost in the final to Tony Arthur. In the final of the "pro" tree race Paul Young picked up the prize.
Paul Young photo courtesy of "Bracket Stars".  The next race is on February 27th 2016.
Images are now available – click here to go to the photo album.