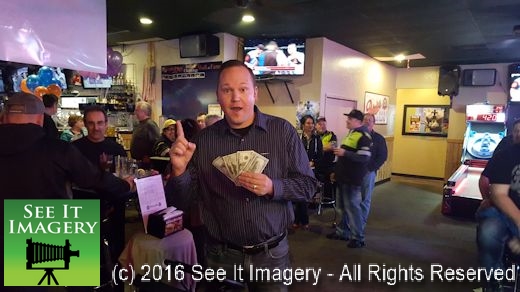 30 Jan 2016 Kent, WA – As the word gets around about the fun and food combination at "The Sports Page" for the Winter Practice Tree Series the lineup for practice has grown to new lengths.  A record number on the "ladder board" showed right away for sure what the number of people in line to practice.  Add that the payout to the winner at the end of the night, the more entries the bigger the prize made for quite a night!
Husbands and Wife's along with Boyfriends and girlfriends adds up to "Family". The gatherings here for the practice tree is no different than at the track it's all about family fun and entertainment. What may not be known is the night is really a "two" race night.
The normal full tree for the "Practice Tree" then afterwards a "Pro tree" winner takes all event. And because the possibility exists can you say "double-up". A "rare" feat to say the least and this night Carl Thorsett was in that rare air sweeping both events with some pretty quick reaction times a lot of them starting with a zero.
Out the door with the "spoils" and high fives and hugs for the winner as another "family" night comes to a close. To join in this fun see Pacific's web site for the next date. See you there.
Images of all the fun and the cash are now online – click here to go to the photo album.