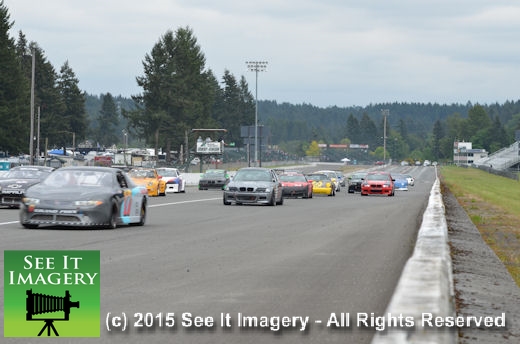 17 May 2015 Kent, WA – Race day is here and people are up early. Some have a race weekend ritual that they go thru no matter what track they are at and some just go with the flow. Either way when race day comes everyone gets an anxious pang to get going. With a count of entries nearing 180 cars that makes for a full day of racing, and one group totaled over 40 cars.
There was some great pack racing with only inches separating the cars from each other – unlike other forms of racing where there might be some bump drafting, it is not really condoned here. It is good to be an aggressive driver, but not at the expense of your competitor. Watching the action has me looking to the end of July when IRDC will be back at Pacific Raceways, see you then.
Over 800 images today – from quite a few different vantage points, so take a look, and again thank you for your purchases and support!